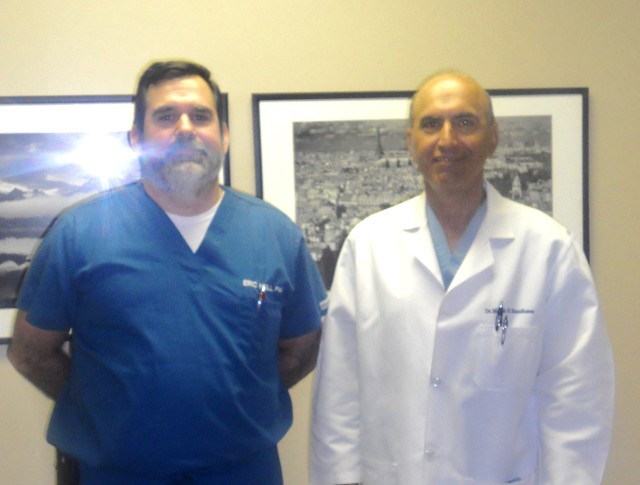 Put your trust in pain management professional at the Brazoria County Pain Center in Angleton, Texas.

Dr. Manjit S. Randhawa, D.O., P.A., and Eric J. Hall, PA-C, utilize a variety of modern approaches to treat your pain. They collaborate with authorities in the fields of pain medicine, anesthesiology, psychology, neurology, physical therapy, and occupational therapy to bring you the most effective treatments.
Caring Diagnostics
Improve your quality of life when you work with the doctors at our office for liberating pain relief. Attentive specialists help you undergo a thorough physical examination in order to locate the source of your pain. Along with musculoskeletal ultrasounds, we couple diagnostic and therapeutic injections in order to provide you with more treatment options outside the hospital to keep therapy affordable.
Attending Doctors
Dr. Manjit S. Randhawa is an anesthesiologist who specializes in pain management. He received his medical degree from the University of Osteopathic Medicine and Health Services in Des Moines, Iowa. He then completed his internship at the University Of Baylor College Of Medicine in Houston, Texas. He is currently the Chief of Anesthesia at Angleton Danbury Medical Center and past president of the Brazoria County Medical Association. Dr. Randhawa is a Diplomat of both the American Academy of Pain Management and the American Board of Anesthesiology.
Eric J. Hall is a nationally certified physician assistant and licensed in the state of Texas since July 2004. He received his Bachelors of Science in Physician Assistant studies in May 2004 and a Master's of Science in Physician Assistant studies in December 2009. His experience includes orthopedic surgery, urgent care medicine, and pain management. His work in the office consists of diagnostic evaluations by physical exams, the use of musculoskeletal ultrasound examination, and radiographic studies.